Posts Tagged 'charlie nieland'
January 18, 2021
There's music happening. It's in multi-dimensional realms with mythical creatures like in the new music video for Charlie's TIGHTROPE. It's also right here on the stoop in the East Village with special guest drop-ins like the magnetic irresistible Penny Arcade coming up to sing a few songs.
I'll include the video clips here, and just so you know, there will be a live stream on January 23rd for 7MPR Dance Company on Facebook. Plus, the first Bushwick Book Club live stream of 2021 is coming February 13th for Kurt Vonnegut's TIMEQUAKE. There are incredible songwriters chomping at the bit for this! Or rather, they're chewing their Vonnegut and turning every bite into brand new literary-song GOLD!
On the stoop for Accordion Fridays:
It was great to have Penny Arcade there to do a cover of Marlon Cherry's "Just How Beautiful (You Are)" with Marlon on percussion. She sang to all of 2nd Avenue… when she performs, she opens all of her heart. I felt like she was extending her love to everyone who passed the whole city of course. It was exciting to have her be our special guest for the live stream.
Share
October 31, 2016
I'm in Mia's apartment on the opposite coast.  My pajamas are the same, but I listened to a completely different set of neighbors having sex this morning (why do neighbors come in sets, like legos?), and it made me miss my lovely Bushwick neighbors.  I don't know why it's preferable to wake up to their sex noises as opposed to these perfectly nice strangers.  Maybe it's just bias for the familiar.  However, I'm not here for the familiar, although I am to a degree.  The familiar that I'm here for is the playing and making of songs with my Lusterlit bandmate, Charlie Nieland.  The unfamiliar part is the West Coast.  It smells different out here.  So different.  I was just texting this morning about it with my friend, filmmaker Lisa Barnstone who is in Finland with her son as he listens to the Helsinki Philharmonic Orchestra rehearse what he wrote for a performance Tuesday of new work from composers who happen to be in the fifth grade. She likes the smells of San Francisco too… I was saying that I wish we could record smells like we do songs and sounds…  We could make smell-notes to ourselves.  Next iphone.  Smell symphonies… holy cow.  A whole new medium of art.  Storytelling through our noses.  Yikes.  I'm getting excited.
I'm also excited because I'm in print!  It hasn't happened too much before.  I don't know how I feel about it, but I suppose it doesn't matter (how I feel).  The bottom line is, here's the print, and the fun thing is buying the magazine at the counter at the airport and opening it up and getting to tell the cashier, "Hey!  look!  That's me!"  And she was happy for me and impressed.  The important thing is that Bernice got a kick out of it…
Me and Bernice sharing a moment at 6:30am at JFK.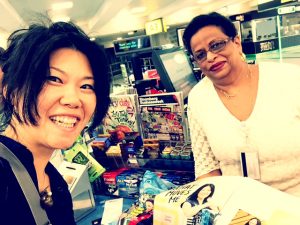 And there's more online but here's the spread for the Sunday NYTimes Magazine.  My friend Alison took this one.  She stills gets that delivered on the weekend.  Like it's 1995 or something.  I like old school values too though.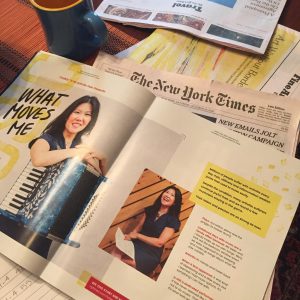 AND… look, there was a rainbow outside the book store waiting for us and our first show at ADOBE BOOKS on our LUSTERLIT Bushwick Book Club West Coast Tour!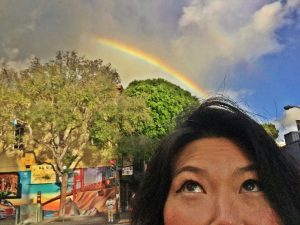 My friend Lisa pointed out that this photo looks "fake as s***."  That's the filter I used–it's called "Fake As S***" or "HDR."  But really, a double rainbow, and it smells good here.
And I got to meet up with Mia and meet her friend Hawa who were just gorgeous and opened up and spread their gorgeous around the room until we were all filled with it and we became so good looking we didn't recognize each other but still appreciated it and the sharing of ideas and feeling.  That's what happens when you play songs about books.  I'm telling you.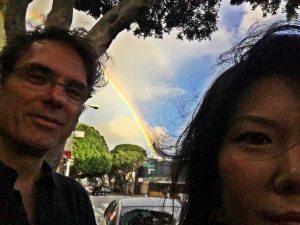 Find out about all our tour dates here:
https://www.facebook.com/events/907566202681474/
September 27, 2016
You know, you write some songs about books, and they seem innocent enough, but then they gain life and become their own sentient beings, and they demand things like videos where all your friends jump naked into a pool.  Or they want to be played all the time and then recorded, and then they want other songs about books to hang out with and soon you have a whole album (or EP), and then that album wants to be released, so you've got to have art and a party.  And then they want keys to the car and they're trying on your clothes.  It's a spiral.. downward, upward, outward….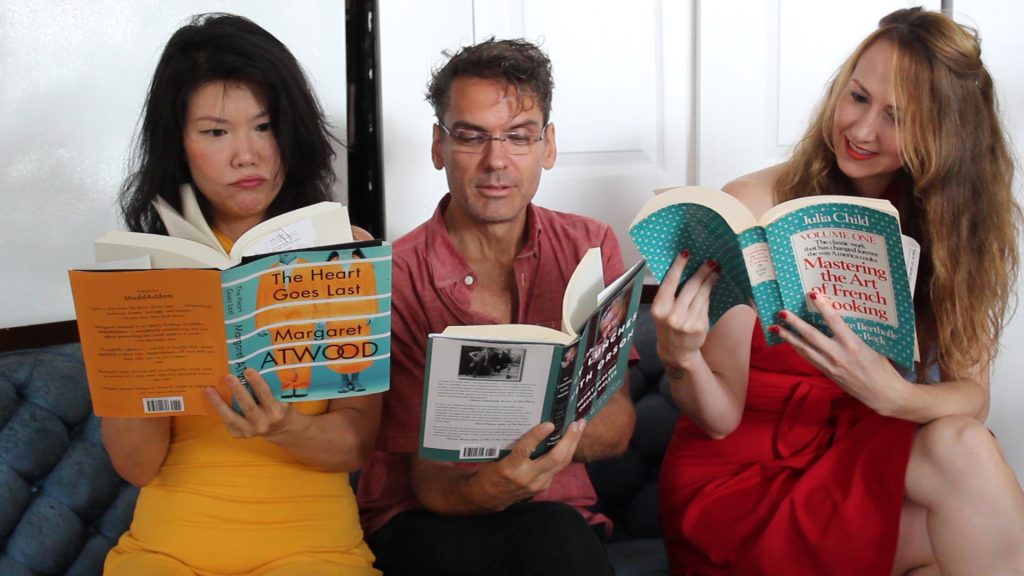 You're invited to the party–the party that songs about books wanted–on Wednesday, September 28th at HiFi in the East Village.  Producer and musician/songwriter, Charlie Nieland and I are playing as our new, lit-based duo, Lusterlit.  He's got an incredible album of songs written for Bushwick Book Club too that begged for this party.  And we're partying with the awesome singer/songwriter, Jessie Kilguss, who is also releasing her recording of BBC songs.  AND we're having special guest performances from BBC contributors Sweet Soubrette, Casey Holford, Pearl Rhein and John S. Hall.  That's the thing about songs about books–they're very social.  They're like 20 year olds–they're all about their friends and hanging out.  Everybody dates everybody; it gets incestuous.  I mean, if you've never hung out with songs about books, you'll see what I mean Wednesday night.  We're all backing each other up on our songs, switching instruments and harmonies all night!  And then we'll get pizza… metaphorically.  I'm still actually in my forties, and I'm lactose intolerant.
Here's the video for the book-inspired song party!
Here are the details again:
Wednesday, September 28th, 7:30-10:30pm
HiFi
169 Ave. A
NYC
Here's the video made by Charlie Nieland for one of my frisky songs to be released on my Vonnegut-inspired EP EVERYTHING IS SATEEN.
EUPHIO – Noise from the Void
Related show
© Susan Hwang 2017. Photo: Carrie Jordan, ShotsByCarrieLou.com. Site design by Billkwando@yahoo.com