Posts Tagged 'lusterlit'
December 5, 2021
The next Bushwick Book Club show is for the work of Dame Darcy with an emphasis on Meat Cake Bible perhaps, but really it's a celebration of all things Darcy, because she is a celebration of what it means to be all you are, whatever you want to be at the same time, when and how you like it. In her case, it means being an artist, musician, performer, animator, filmmaker, illustrator, painter, doll maker, world maker, storyteller, witch, mermaid, pirate.
December 15th, we'll have our event with 15 different musicians, songwriters, comedians and one chef who will respond to Darcy's work. Darcy herself will be there and performing with us. It's the final BBC show of 2021 and also our first fundraiser. We just achieved 501(c)(3) status this year. It's happening at one of my favorite places that happens to have the best Ukrainian food in the East Village – The Ukrainian National Home at 140 East 2nd Ave. between 9th St. and St. Marks.
Here's the flyer designed by the stupendous Scott MX Turner. And I'll also include a video that Darcy made of my performance of "Cutting" written in response to Meat Cake Bible from a few years ago. I'll be performing the song again live on the 15th. Lusterlit released it on vinyl not too long ago. The single had "Cutting" on one side and Charlie's rocking "Waxwolf" on the other. I think you can still order the '45! But also listen to it digitally on Bandcamp.
Related show
Share
September 5, 2020
I do a lot of nothing too. Just swaths, gobs of nothing. And sometimes, even if I am doing something, whatever it is, it is surely not the right thing or enough.
Here is some documentation of things I have done the past few months. I should document the nothing too I suppose. Why not? Oh, I get it now… What I'm presenting here now is the documentation of nothing. Here's the nothing I've been doing.
Interview on Sub Rosa Sound Radio
Host, Ariel Wang, and I had a lot of fun talking about music and songwriting, Bushwick Book Club, creativity, what to wear for zoom meetings…
Fermented Black Garlic
Fermentation is a journey. Here's the path of Black Garlic timed to the Full Moon in Pisces.
The start
The finish
A clip from a Lusterlit set in Seward Park. Music in front of actual people without a computer!!!
Speaking of PINCLOUDS, here's a video I put together of Claudi from that afternoon set to music I recorded of theirs in Tompkins Square Park earlier in the month:
Accordion Babes' Accordion Fridays
Also, here's my latest live stream from Accordion Babe's Accordion Fridays performance series. Oh, the joy of accordioning accompanied by the wonderful Marlon Cherry on percussion, backing vocals and kazoo.
Related show
Share
October 31, 2016
I'm in Mia's apartment on the opposite coast.  My pajamas are the same, but I listened to a completely different set of neighbors having sex this morning (why do neighbors come in sets, like legos?), and it made me miss my lovely Bushwick neighbors.  I don't know why it's preferable to wake up to their sex noises as opposed to these perfectly nice strangers.  Maybe it's just bias for the familiar.  However, I'm not here for the familiar, although I am to a degree.  The familiar that I'm here for is the playing and making of songs with my Lusterlit bandmate, Charlie Nieland.  The unfamiliar part is the West Coast.  It smells different out here.  So different.  I was just texting this morning about it with my friend, filmmaker Lisa Barnstone who is in Finland with her son as he listens to the Helsinki Philharmonic Orchestra rehearse what he wrote for a performance Tuesday of new work from composers who happen to be in the fifth grade. She likes the smells of San Francisco too… I was saying that I wish we could record smells like we do songs and sounds…  We could make smell-notes to ourselves.  Next iphone.  Smell symphonies… holy cow.  A whole new medium of art.  Storytelling through our noses.  Yikes.  I'm getting excited.
I'm also excited because I'm in print!  It hasn't happened too much before.  I don't know how I feel about it, but I suppose it doesn't matter (how I feel).  The bottom line is, here's the print, and the fun thing is buying the magazine at the counter at the airport and opening it up and getting to tell the cashier, "Hey!  look!  That's me!"  And she was happy for me and impressed.  The important thing is that Bernice got a kick out of it…
Me and Bernice sharing a moment at 6:30am at JFK.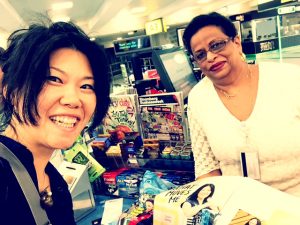 And there's more online but here's the spread for the Sunday NYTimes Magazine.  My friend Alison took this one.  She stills gets that delivered on the weekend.  Like it's 1995 or something.  I like old school values too though.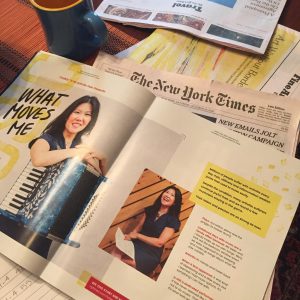 AND… look, there was a rainbow outside the book store waiting for us and our first show at ADOBE BOOKS on our LUSTERLIT Bushwick Book Club West Coast Tour!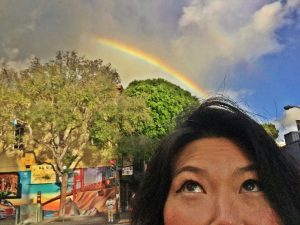 My friend Lisa pointed out that this photo looks "fake as s***."  That's the filter I used–it's called "Fake As S***" or "HDR."  But really, a double rainbow, and it smells good here.
And I got to meet up with Mia and meet her friend Hawa who were just gorgeous and opened up and spread their gorgeous around the room until we were all filled with it and we became so good looking we didn't recognize each other but still appreciated it and the sharing of ideas and feeling.  That's what happens when you play songs about books.  I'm telling you.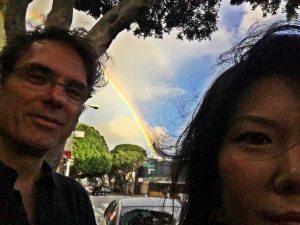 Find out about all our tour dates here:
https://www.facebook.com/events/907566202681474/
© Susan Hwang 2017. Photo: Carrie Jordan, ShotsByCarrieLou.com. Site design by Billkwando@yahoo.com