Posts Tagged 'marlon cherry'
July 28, 2021
Is it boring to talk about the weather? Is it mundane to mention the seasons? I don't know, sometimes boring is great. Sometimes boring is just what you need, and it takes a lot for me to say that, with my general stance since I was born being that everything should be fun all the time. But I'm thinking now that there's fun even in boredom. See those threads of fun in the fabric of boredom? What a trick.
It's been kinda an explosion of extroversion. I was not exactly ready for it, but I think I did okay. Remember that first "party" where it was everybody's first time in a room with other people, and you were all trying to remember how to socialize? Everyone felt conversationally clumsy. I was all thumbs. My friend Virlana said she was having trouble discerning whether she had just spoken a thought aloud or not. Boy, was it thrilling just to feel that awkward. With people.
Ooo. I'm just realizing that you need people for awkwardness at all. I mean, you can't feel awkward alone. Can you? So "social awkwardness" is redundant. There might not be such a thing as solitary awkwardness. At least I hope not.
Other thrilling (and somewhat awkward) things in my book:

Released this video for Yara Arts with lyrics from Serhiy Zhadan's poem "Psalm to Aviation #58." And thanks "Ukrainian Weekly" for covering the release event in this article by Olena Jennings!
And Lila Eaton, the daughter of my best friend from freshman year at college, was here with her TRUMPET and learned the parts *that day* to perform at the release with me and Marlon! Omg. Trumpet dreams do come true.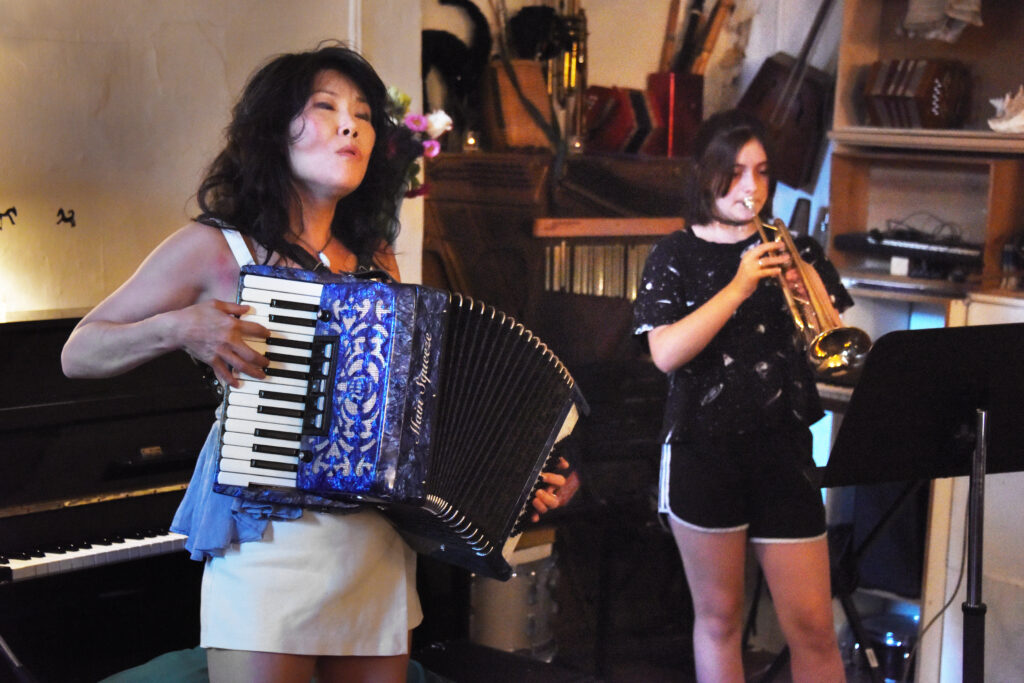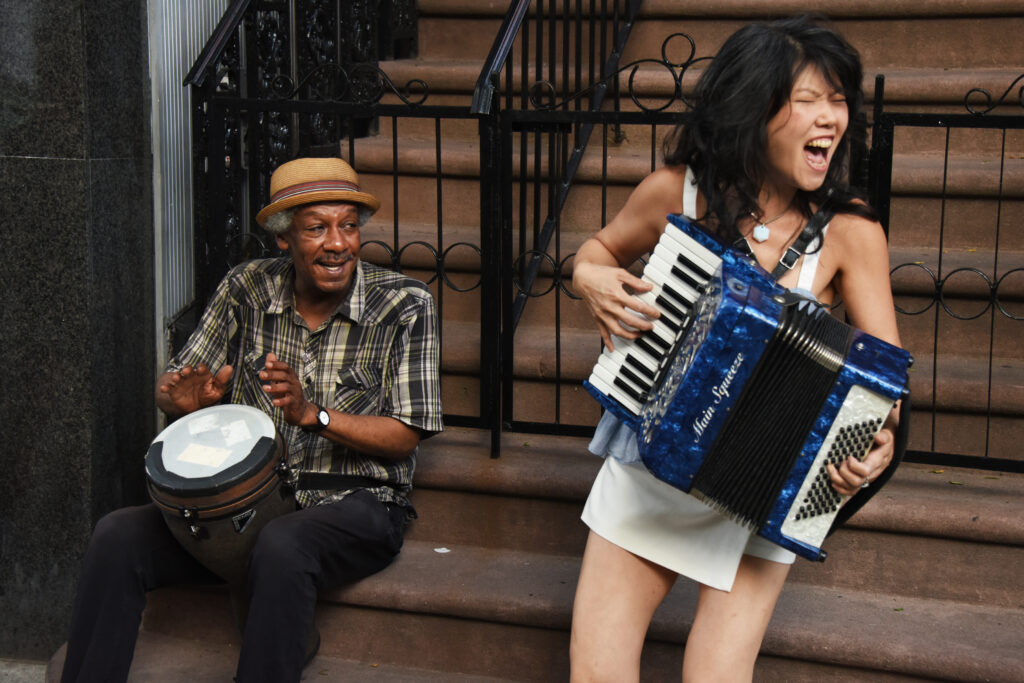 Journalist and photographer Bob Krasner also covered Bushwick Book Club's first in-person and live streamed event for AM New York. It was a creative feast and a much needed, heartening gathering of artists, musicians and author. I would describe that show for Brandy Schillace's Mr. Humble & Dr. Butcher as spectacular and deeply satisfying, and Bob's article really caught the moment and all the layers of meaning in the article and photos.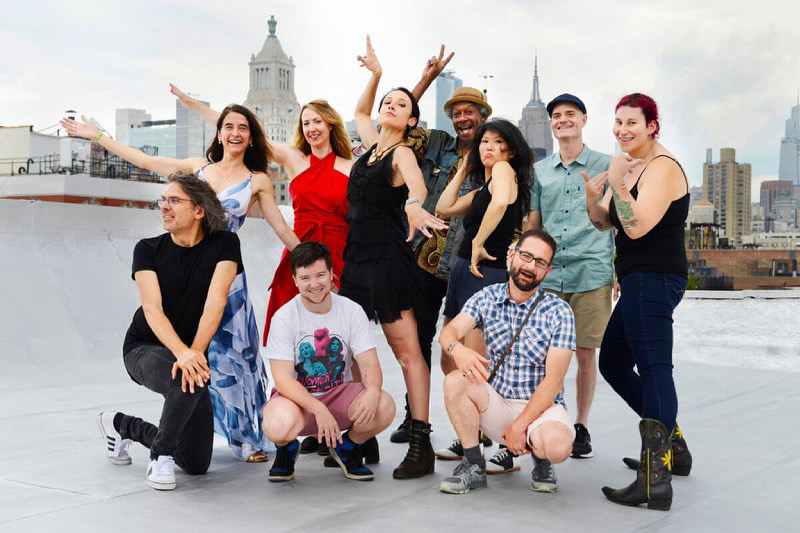 Okay THEN… Bushwick Book Club presented our first stage at the Porchstomp music festival on Governor's Island. Here's some of the documenting I was able to do:
Share
January 18, 2021
There's music happening. It's in multi-dimensional realms with mythical creatures like in the new music video for Charlie's TIGHTROPE. It's also right here on the stoop in the East Village with special guest drop-ins like the magnetic irresistible Penny Arcade coming up to sing a few songs.
I'll include the video clips here, and just so you know, there will be a live stream on January 23rd for 7MPR Dance Company on Facebook. Plus, the first Bushwick Book Club live stream of 2021 is coming February 13th for Kurt Vonnegut's TIMEQUAKE. There are incredible songwriters chomping at the bit for this! Or rather, they're chewing their Vonnegut and turning every bite into brand new literary-song GOLD!
On the stoop for Accordion Fridays:
It was great to have Penny Arcade there to do a cover of Marlon Cherry's "Just How Beautiful (You Are)" with Marlon on percussion. She sang to all of 2nd Avenue… when she performs, she opens all of her heart. I felt like she was extending her love to everyone who passed the whole city of course. It was exciting to have her be our special guest for the live stream.
Share
September 5, 2020
I do a lot of nothing too. Just swaths, gobs of nothing. And sometimes, even if I am doing something, whatever it is, it is surely not the right thing or enough.
Here is some documentation of things I have done the past few months. I should document the nothing too I suppose. Why not? Oh, I get it now… What I'm presenting here now is the documentation of nothing. Here's the nothing I've been doing.
Interview on Sub Rosa Sound Radio
Host, Ariel Wang, and I had a lot of fun talking about music and songwriting, Bushwick Book Club, creativity, what to wear for zoom meetings…
Fermented Black Garlic
Fermentation is a journey. Here's the path of Black Garlic timed to the Full Moon in Pisces.
The start
The finish
A clip from a Lusterlit set in Seward Park. Music in front of actual people without a computer!!!
Speaking of PINCLOUDS, here's a video I put together of Claudi from that afternoon set to music I recorded of theirs in Tompkins Square Park earlier in the month:
Accordion Babes' Accordion Fridays
Also, here's my latest live stream from Accordion Babe's Accordion Fridays performance series. Oh, the joy of accordioning accompanied by the wonderful Marlon Cherry on percussion, backing vocals and kazoo.
Related show
Share
© Susan Hwang 2017. Photo: Carrie Jordan, ShotsByCarrieLou.com. Site design by Billkwando@yahoo.com