Posts Tagged 'yara arts group'
July 28, 2021
Is it boring to talk about the weather? Is it mundane to mention the seasons? I don't know, sometimes boring is great. Sometimes boring is just what you need, and it takes a lot for me to say that, with my general stance since I was born being that everything should be fun all the time. But I'm thinking now that there's fun even in boredom. See those threads of fun in the fabric of boredom? What a trick.
It's been kinda an explosion of extroversion. I was not exactly ready for it, but I think I did okay. Remember that first "party" where it was everybody's first time in a room with other people, and you were all trying to remember how to socialize? Everyone felt conversationally clumsy. I was all thumbs. My friend Virlana said she was having trouble discerning whether she had just spoken a thought aloud or not. Boy, was it thrilling just to feel that awkward. With people.
Ooo. I'm just realizing that you need people for awkwardness at all. I mean, you can't feel awkward alone. Can you? So "social awkwardness" is redundant. There might not be such a thing as solitary awkwardness. At least I hope not.
Other thrilling (and somewhat awkward) things in my book:

Released this video for Yara Arts with lyrics from Serhiy Zhadan's poem "Psalm to Aviation #58." And thanks "Ukrainian Weekly" for covering the release event in this article by Olena Jennings!
And Lila Eaton, the daughter of my best friend from freshman year at college, was here with her TRUMPET and learned the parts *that day* to perform at the release with me and Marlon! Omg. Trumpet dreams do come true.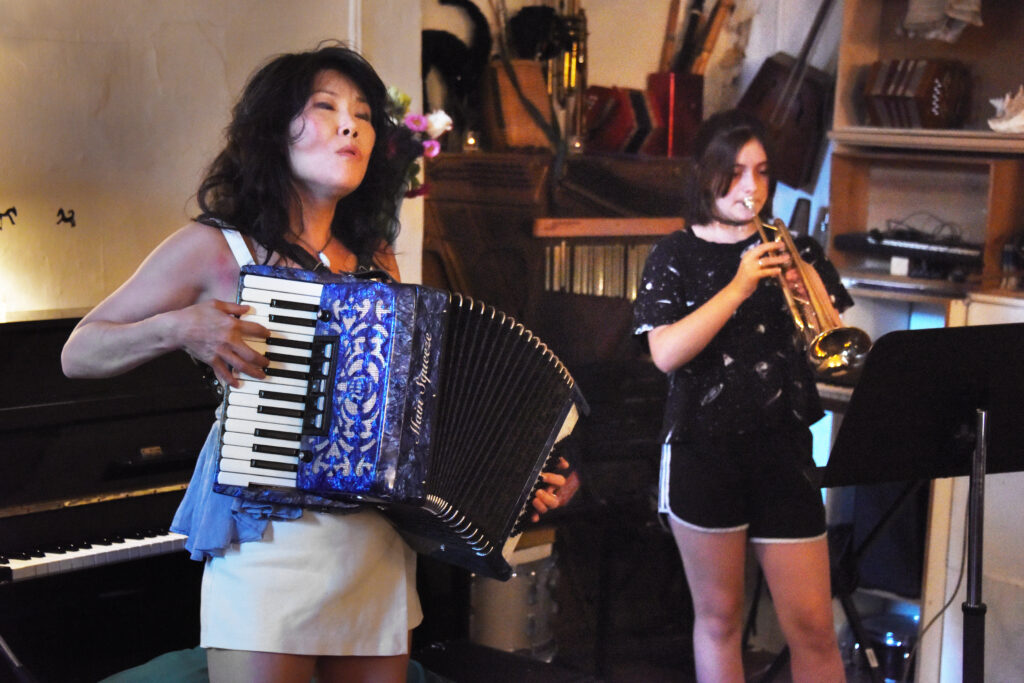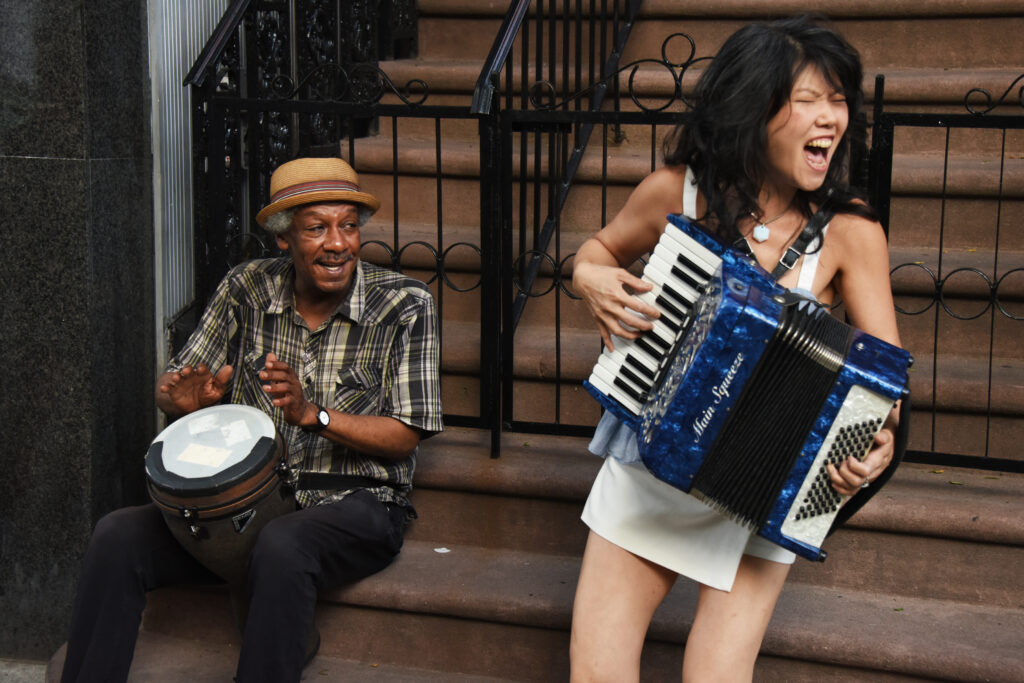 Journalist and photographer Bob Krasner also covered Bushwick Book Club's first in-person and live streamed event for AM New York. It was a creative feast and a much needed, heartening gathering of artists, musicians and author. I would describe that show for Brandy Schillace's Mr. Humble & Dr. Butcher as spectacular and deeply satisfying, and Bob's article really caught the moment and all the layers of meaning in the article and photos.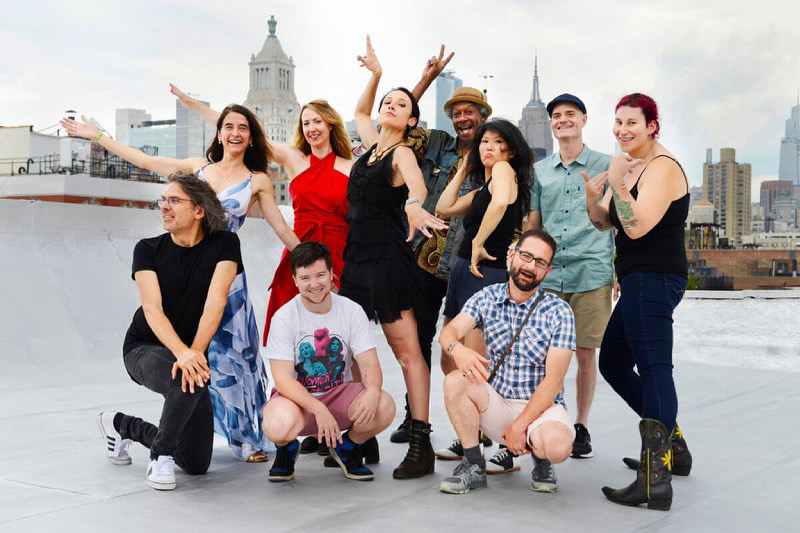 Okay THEN… Bushwick Book Club presented our first stage at the Porchstomp music festival on Governor's Island. Here's some of the documenting I was able to do:
Share
May 20, 2014
I can't keep up with the weekends.
I biked into the East Village from Bushwick on Saturday night.  I normally like getting on my bike.  In regards to biking, my motto is, "Get on; you won't regret it."   When you're on your bike it feels good.
It's similar to my motto about horses — "Everything looks better from the back of a horse."
I also have a motto about singing — "It's better to sing than not to sing."
But I almost amended my motto on bikes Saturday night.  I don't see how this is possible, but there was extra chaos in the traffic that evening.  And then once you're in the city, there are all the drunk weekenders standing in the middle of the street, getting out of cabs, talking loudly enough to knock you off balance.
However, the flashing headlights of all the citibikes coming at me on the Williamsburg bridge looked like fireflies.  It was kind of pretty.   That and the moments of lift and solitude I got on the bridge gave me that feeling of flying that I know from my dreams.
All this transportation was so I could see my friends from Yara Arts Group.  Vova (Waldemart Klyuzko) had an art show opening at The Ukrainian Museum on 6th Street.  It was a collection of his protest art and photography, much of it used in demonstrations against Russia.  I learned how to say "dick head" in Ukrainian.  This is Vova with a piece of one of his pieces.  It's a bomb.  He just happened to be wearing an explosion tshirt.  He said he got the shirt in NYC.  I said that's funny, because it looks like Kyiv.  All the charred remains of those fires that burned and burned are left in the city.  And bits are being taken and sold to tourists.  Protest chachkas.  Resistance rubble.
Vova with the bomb.  That is perfect.  Others made maletov cocktails.  Vova makes artbombs.
You can see the exhibit — "We Are All Ukraine" now through July 6th at The Ukrainian Museum – 222 East 6th Street (bet. 2nd and 3rd Aves.) New York, NY 10003, ph: 212 228-0110.
The highlight of the night though, came from this lady:
She beat up Vova's installation of Putin as a blow-up doll.
She's 92 years old.
She really enjoyed this.
Afterwards, she said, "That makes me feel better."Share

© Susan Hwang 2017. Photo: Carrie Jordan, ShotsByCarrieLou.com. Site design by Billkwando@yahoo.com