Posts Tagged 'jessie kilguss'
September 27, 2016
You know, you write some songs about books, and they seem innocent enough, but then they gain life and become their own sentient beings, and they demand things like videos where all your friends jump naked into a pool.  Or they want to be played all the time and then recorded, and then they want other songs about books to hang out with and soon you have a whole album (or EP), and then that album wants to be released, so you've got to have art and a party.  And then they want keys to the car and they're trying on your clothes.  It's a spiral.. downward, upward, outward….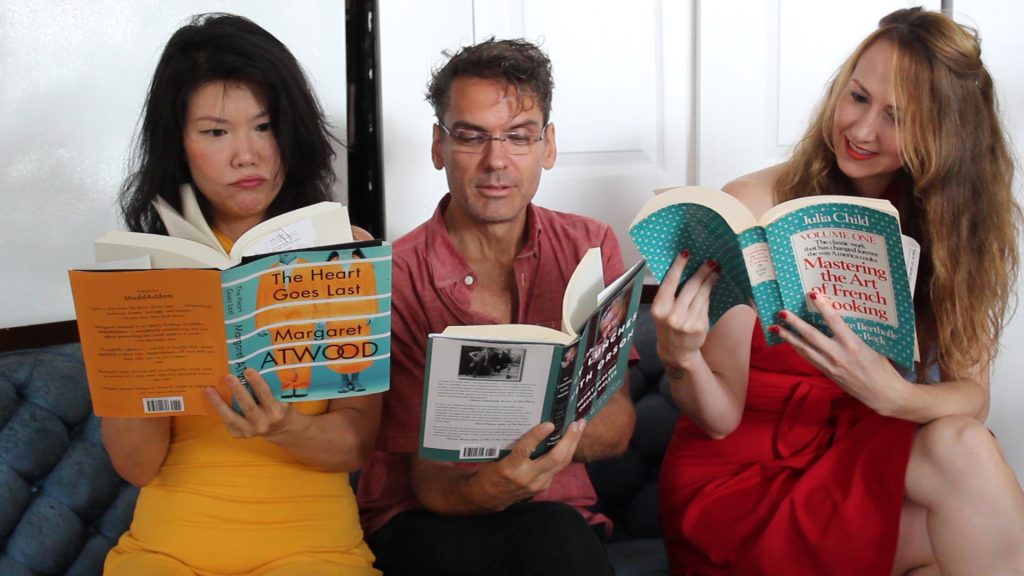 You're invited to the party–the party that songs about books wanted–on Wednesday, September 28th at HiFi in the East Village.  Producer and musician/songwriter, Charlie Nieland and I are playing as our new, lit-based duo, Lusterlit.  He's got an incredible album of songs written for Bushwick Book Club too that begged for this party.  And we're partying with the awesome singer/songwriter, Jessie Kilguss, who is also releasing her recording of BBC songs.  AND we're having special guest performances from BBC contributors Sweet Soubrette, Casey Holford, Pearl Rhein and John S. Hall.  That's the thing about songs about books–they're very social.  They're like 20 year olds–they're all about their friends and hanging out.  Everybody dates everybody; it gets incestuous.  I mean, if you've never hung out with songs about books, you'll see what I mean Wednesday night.  We're all backing each other up on our songs, switching instruments and harmonies all night!  And then we'll get pizza… metaphorically.  I'm still actually in my forties, and I'm lactose intolerant.
Here's the video for the book-inspired song party!
Here are the details again:
Wednesday, September 28th, 7:30-10:30pm
HiFi
169 Ave. A
NYC
Here's the video made by Charlie Nieland for one of my frisky songs to be released on my Vonnegut-inspired EP EVERYTHING IS SATEEN.
EUPHIO – Noise from the Void
Related show
Share
June 20, 2014
If the animal parts have trouble coming off, we'll just change our name to The Relasticats.
The show is tonight at Bait and Tackle in Red Hook, Brooklyn.
Tonight, Friday, June 20th, 10pm
Bait and Tackle
320 Van Brunt St.
Brooklyn
ph: (718) 451-4665
Door: by donation
We are playing songs inspired by physicist, Richard Feynman, plus a new doo-wop inspired by Philip Roth and girl parts.  Join us at Bait and Tackle with our friends Jessie Kilguss and her band playing her beautiful alt. country originals.  We can walk by the water afterwards and gorge ourselves on negative ions.  Oh look, we're making up our own perfect pre-solstice rituals.  That is so resourceful of us….
Last night, we raised money for this guy:
Charlie requires 2 surgeries to have an abscess removed from his ear.  He's got an active lifestyle.
Share
© Susan Hwang 2017. Photo: Carrie Jordan, ShotsByCarrieLou.com. Site design by Billkwando@yahoo.com