Posts Tagged 'music video'
July 2, 2023
I woke up and thought of the video I made the other day. I felt satisfaction. I felt satisfaction just on having made this thing that wasn't there before. A song. A video. This feeling was there–feeling good about this new thing, and it was separate from whether this new thing would be seen by anyone. I mean, Virlana saw it, because she commissioned it and uploaded it to the Yara sites. I might send the link to Joie. But the pleasure in making this thing exists independently of whether anyone sees it.
And then, I felt pleasure noticing this pleasure. I looked at the pleasure and thought, "That's so cool" — which is technically another pleasure.
A pleasure on top of another pleasure. That's a double layer cake right there. What happens if you keep finding layers upon layers… you get a croissant, which is its own realm of multi-dimensional pleasure and proof that humanity may not be all bad.
This is the video. The song's lyrics are a poem by Ukrainian poet Oksana Zabuzhko — "DESPITE IT ALL IT WAS YOU I LOVED…" translated by Wanda Phipps and Virlana Tkacz.
Here is another video I did in the winter of last year. Keeping up with the posting.. I have to be more people to do that and make the stuff to post. There is pleasure in posting. Hey! That's another layer! Getting closer to that croissant… mmm.. croissants.
My folks don't know I made this… shhh! My mother hates social media.
Share
January 18, 2021
There's music happening. It's in multi-dimensional realms with mythical creatures like in the new music video for Charlie's TIGHTROPE. It's also right here on the stoop in the East Village with special guest drop-ins like the magnetic irresistible Penny Arcade coming up to sing a few songs.
I'll include the video clips here, and just so you know, there will be a live stream on January 23rd for 7MPR Dance Company on Facebook. Plus, the first Bushwick Book Club live stream of 2021 is coming February 13th for Kurt Vonnegut's TIMEQUAKE. There are incredible songwriters chomping at the bit for this! Or rather, they're chewing their Vonnegut and turning every bite into brand new literary-song GOLD!
On the stoop for Accordion Fridays:
It was great to have Penny Arcade there to do a cover of Marlon Cherry's "Just How Beautiful (You Are)" with Marlon on percussion. She sang to all of 2nd Avenue… when she performs, she opens all of her heart. I felt like she was extending her love to everyone who passed the whole city of course. It was exciting to have her be our special guest for the live stream.
Share
June 30, 2016
What could possibly be more pleasing than a girl pool.  Who doesn't like girls and pools.  A pool of girls is a desirable thing, as far as things go.
I'm fortunate in that I've only experienced the most satisfying, exhilarating of girl pools with the most talented, true, fearless girls one can know.  That's how my experience of them has been.
The video, inspired by Chapter 7 of Kurt Vonnegut's Cat's Cradle, is for a song written for Bushwick Book Club.  It's being shown at the Berlin Short Film Festival today.  I'm not there in Berlin, but the director of the video, Deb Magocsi is!  (Incidentally, I met Deb in a girl pool known as the Main Squeeze Orchestra.  I've occupied many, and they have all been glorious.)
These are shots from the original Girl Pool.  
Phyllis Junick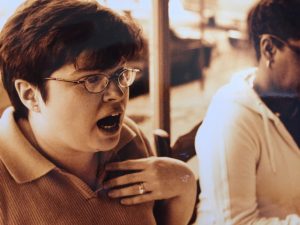 Margaret Langan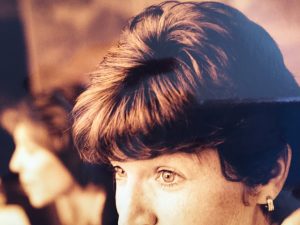 Janine Diorio….  (I don't have a picture of her).
Gail Malone (the blonde with the sweet smile at the end of the table)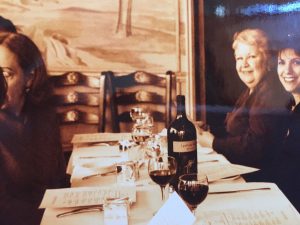 Sharon Murphy…
Tricia Balsamello.. (look at those eyes!!)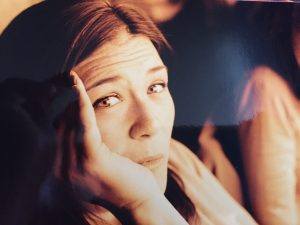 Donna Ingargiola Mustafa…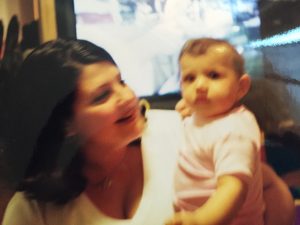 Those are some of my girls from the Girl Pool of M&A Goldman Sachs.
Some of the other girl pools I'm lucky enough to have occupied are:
(as mentioned earlier) The Main Squeeze Orchestra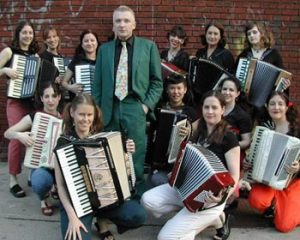 and GOLD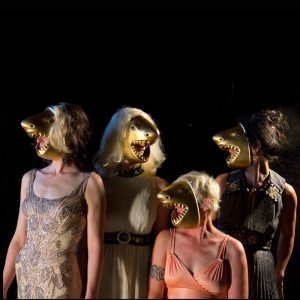 (we have a show tomorrow night, 9pm at Union Hall in Park Slope!)
People have all kinds of luck. I personally am fond of parking mojo, but I'm also blessed with knowing pretty much only amazing people.  It's hard for me not to surrounded by geniuses, adorable people and  adorable geniuses of all genders and degrees of genders identifying more or less with one, several or no genders.
That's all I wanted to say.  And one of the happiest occasions of my life was making the video for Girl Pool.  I can't explain how fun it was and how many adorable, very good-looking geniuses it brought together at Mark Lerner's pool in upstate New York and in the offices of Enstoa (thank you Jordan Cram!)  And I'm happy that Berliners get to peek in the Girl Pool that keeps swirling due to the forces of art, love and Vonnegut.
© Susan Hwang 2017. Photo: Carrie Jordan, ShotsByCarrieLou.com. Site design by Billkwando@yahoo.com